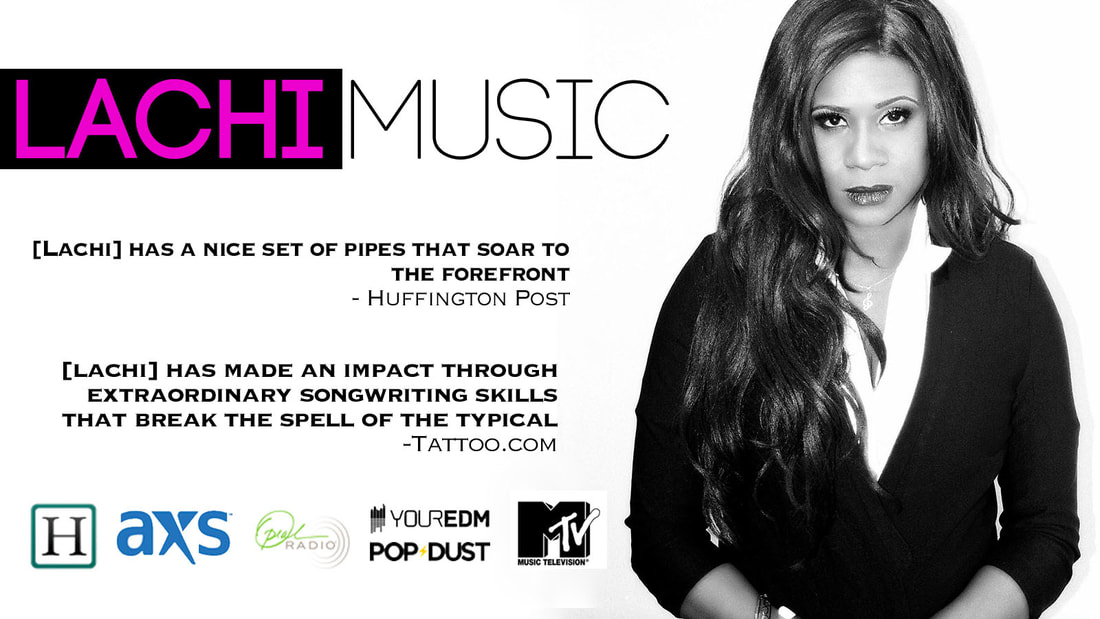 "Breathy techno-pop about self-empowerment that manages to rise way above"
-Devon Jackson of Rolling Stone

"I can definitely hear this on an action movie soundtrack"
-Lamar Saey of True Magazine
A prolific songwriter, author and artist, Lachi has been creating and performing music since a young age. Overcoming adversity is the continued theme throughout Lachi's personal, professional and artistic life. Growing up in a combination of West Philly, Upstate New York and North Carolina, she was the sixth of seven children to West African Immigrant parents. Hard work, education and adaptation remained the primary focus of her family. Legally blind, Lachi found solace in music and writing developing a vast, self-sustaining imagination.

After graduating from college, Lachi began to actively pursue a life in music and writing, moving to New York City to record her first album, And This is My Life...,(a piano/vocal jazz quirky mix of wordplay and interesting chord progressions) while writing her first serious novel. Lachi then put a band together and recorded the Ugly Beautiful EP, a more mature Adult Contemporary album, full of colorful messages of empowerment, demonstrated a strong songwriting prowess.

Lachi got picked up by Fanatic Records/EMI-Caroline (now Fanatic Promotion), who spotted her at a South by Southwest showcase in Texas and signed her for one album. They put out her eponymous pop-rock album, Lachi, which though edgier and more confident, continued to empower listeners with messages of strength. The album attracted significant press and attention, landing her on Oprah Radio and winning her national TV and radio spins.

Juggling a day-job at the Army Corps of Engineers and working on her music and writing began to tear her focus away from the arts; so she left her desk job to pursue music full-time. Teaming up with Ray Archie, former head of streaming at CBS Radio and producer Kiyanu Kim, Lachi released It's Our Time, a song she wrote to aid in the launch of a social music collaboration platform, Mixluv. She also flew out to L.A. to record new tracks with Trend Def Studios while putting the finishing touches on her first full-length novel, "The Ivory Staff."

Apart from scoring a book deal with innovative publisher, Library Tales Publishing, Lachi inked a distribution deal with Trend Def's Sony Music imprint to release "The Boss EP". Again an album of empowerment, with songs such as "Boss" and "Champion," the EP is a high-energy foray into commercial pop/dance, enhanced with a myriad of dub and vocal effects.

Lachi progressed from the lyrics of her first jazz album, "I never decide upon anything right," to the lyrics of The Boss EP, "I'm feeling like a sexy independent," showcasing her personal growth in confidence, all the while keeping true to that message of overcoming adversity.


---